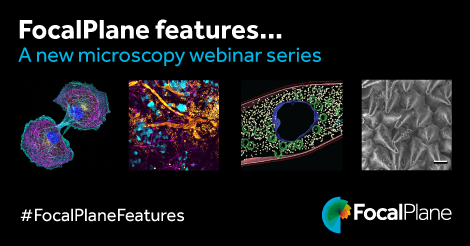 Subscribe to our mailing list here to receive details about upcoming webinars as they are announced.
Past events
Watch our previous FocalPlane features…recorded webinars.
30 June 2022 – Quantitative Phase Imaging: Zuzana Nováková, Patrick McCall and Jan Balvan
16 February 2022 – Machine Learning: Ricardo Henriques, Estibaliz Gómez de Mariscal and Martin Weigert.
17 January 2022 – CLEM: Yannick Schwab, Ori Avinoam and Alexandra Pacureanu.
8 November 2021 – Data Analysis for Volume EM: Anna Kreshuk, Dagmar Kainmueller and Jan Funke.
3 August 2021 – 'Super-resolution insights into the immune response' Michael Dustin, University of Oxford.
6 July 2021 – 'Cryo-EM as a tool to study microtubule structure and microtubule-associated proteins binding' Eva Nogales, UC Berkeley.
1 June 2021 – 'Light sheet microscopy: What is it good for?' Pavel Tomancak, Max Planck Institute of Molecular Cell Biology and Genetics.
4 May 2021 – 'Emerging imaging technologies to study cell architecture, dynamics and funcion' Jennifer Lippincott-Schwartz, Janelia Research Campus.
Banner image credits
COS cells, super-resolution microscopy – Christophe Leterrier
Breast xenograft tumor tissue, two-photon microscopy – Battuya Bayarmagnai
Bacterium cryo-electron tomogram segmentation – Kanika Khanna
Solanum citrullifolium flower, scanning electron microscopy – Casper van der Kooi
Get involved
Create an account or log in to post your story on FocalPlane.
Sign up to our mailing list
Receive details about upcoming webinars