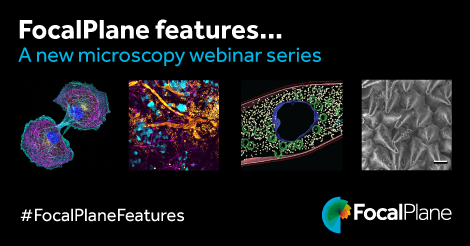 Subscribe to our mailing list here to receive details about upcoming webinars as they are announced.
Join us for our next FocalPlane features… webinar on Thursday 30 June at 14:30 BST, sponsored by telight, to learn more about quantitative phase imaging and its applications to cell biology with Zuzana Nováková, Patrick McCall and Jan Balvan. The talks will be hosted in Zoom. Following the Q&A, there will be a round table discussion with the speakers and input from the speakers and audience.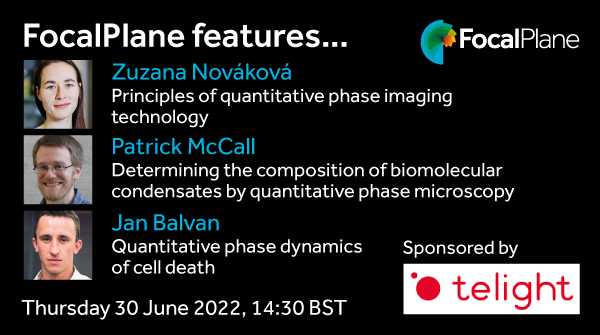 Register now for this event
For an introduction to the topic and to learn more about quantitative phase imaging, read this post by telight.
Past events
Watch our previous FocalPlane features…recorded webinars.
16 February 2022 – Machine Learning: Ricardo Henriques, Estibaliz Gómez de Mariscal and Martin Weigert.
17 January 2022 – CLEM: Yannick Schwab, Ori Avinoam and Alexandra Pacureanu.
8 November 2021 – Data Analysis for Volume EM: Anna Kreshuk, Dagmar Kainmueller and Jan Funke.
3 August 2021 – 'Super-resolution insights into the immune response' Michael Dustin, University of Oxford.
6 July 2021 – 'Cryo-EM as a tool to study microtubule structure and microtubule-associated proteins binding' Eva Nogales, UC Berkeley.
1 June 2021 – 'Light sheet microscopy: What is it good for?' Pavel Tomancak, Max Planck Institute of Molecular Cell Biology and Genetics.
4 May 2021 – 'Emerging imaging technologies to study cell architecture, dynamics and funcion' Jennifer Lippincott-Schwartz, Janelia Research Campus.
Banner image credits
COS cells, super-resolution microscopy – Christophe Leterrier
Breast xenograft tumor tissue, two-photon microscopy – Battuya Bayarmagnai
Bacterium cryo-electron tomogram segmentation – Kanika Khanna
Solanum citrullifolium flower, scanning electron microscopy – Casper van der Kooi
Get involved
Create an account or log in to post your story on FocalPlane.
Sign up to our mailing list
Receive details about upcoming webinars