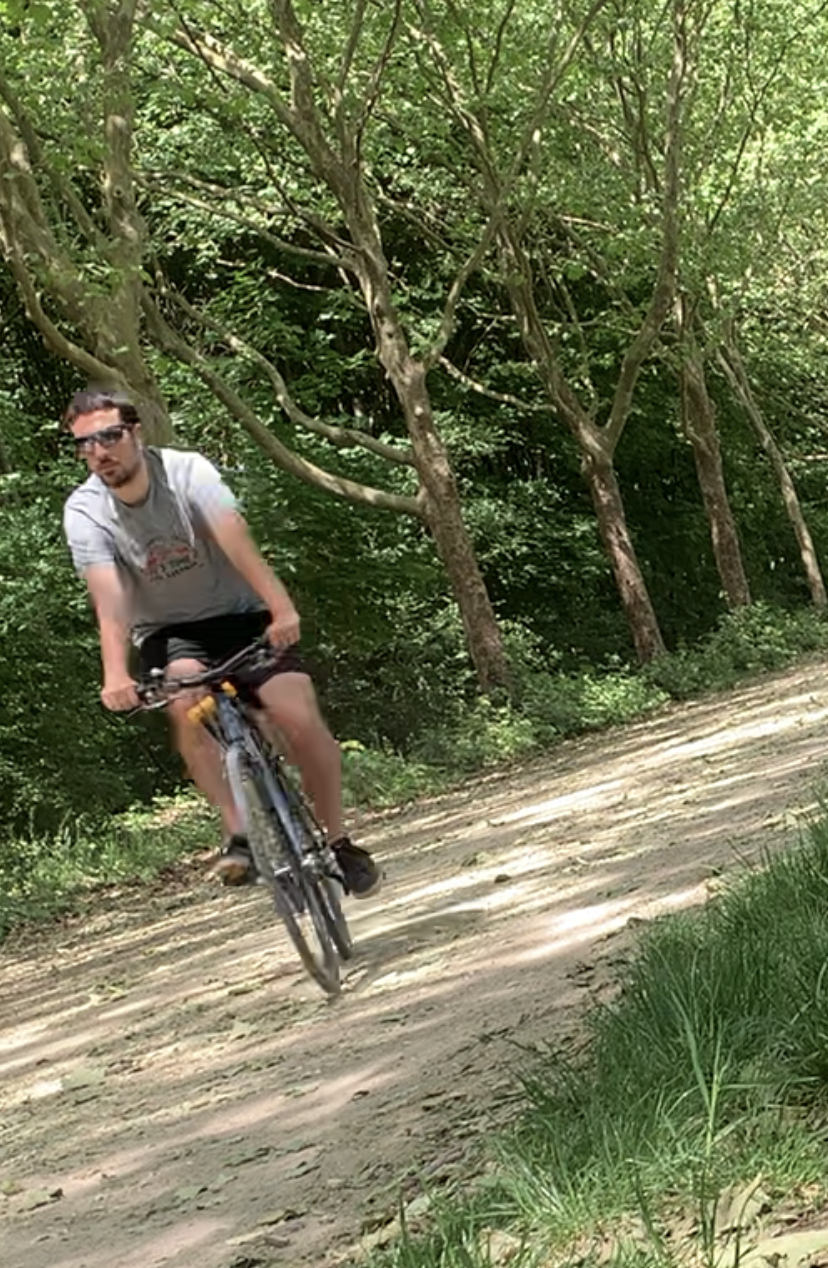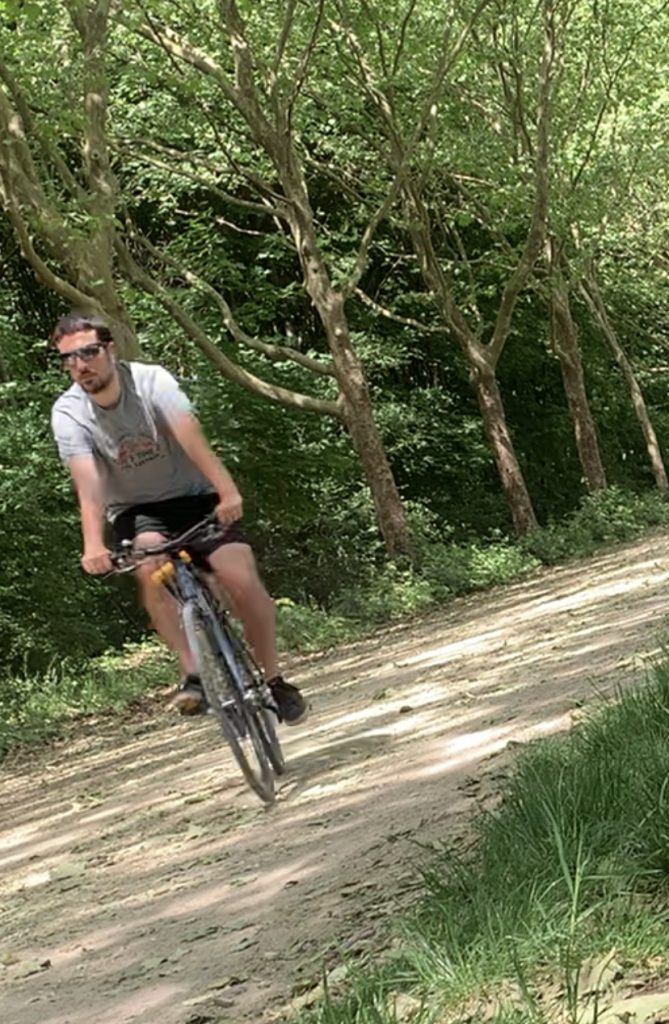 MiniBio: Ramiro Tomasina is a PhD student since 2020 in Dr. Maria Eugenia Francia's lab at Institut Pasteur Montevideo and he holds a position as assistant grade two in the Department of Parasitology and Mycology of the School of Medicine at Universidad de la Republica. He is a Pharmaceutical Chemist by training, and has worked on Toxoplasma gondii and Trypanosoma brucei during his career. He did his BSc and MSc in Uruguay. During his Master and PhD he has performed two internships at Institut Pasteur Paris in the lab of Philippe Bastin and one at the Institut Pasteur of Lille in the lab of Mathieu Gissot. His main expertise is in optical microscopy and expansion microscopy, which has allowed him to study the cell biology of both parasites. In the future he wishes to continue doing academic science.
What inspired you to become a scientist?
I think my sister inspired me. I was always interested in science, but my sister is a biochemist and she introduced me into this world. She helped me make some of the decisions that took me to where I am now. I didn't even consider other careers. I always thought I would study Chemistry, Biology or Biochemistry. I thought briefly about Engineering or Medicine but never truly seriously.
You have a career-long involvement in microscopy and infectious diseases. What inspired you to choose this career path?
A bit by accident. I studied Pharmaceutical Chemistry. My sister gave me a bit of advice that I should consider a career that would be options: so that if for instance, my career in basic research failed, I would have options in applied science or industry (and pharmaceutical companies for instance). I started doing Organic Chemistry, characterizing active molecules against parasites. Later I worked a few months in the pharmaceutical industry, and then I began my MSc under the supervision of Dr. Maria Eugenia Francia. About microscopy, it was more also because the project with Maria Eugenia involved microscopy. I have now come to love it, and the Institut Pasteur Montevideo is very well equipped, so it's accessible to me.
Can you tell us a bit about what you have found uniquely positive about becoming a researcher in Uruguay, from your education years?
We have to plan experiments very well, because we have to make the most out of resources, and we have to consider the waiting time for resources. I believe also we have a very strong education: we are able to do our own reagents (rather than kits), so we get to learn the basics of everything. This can be a disadvantage too in terms of time investment but in terms of knowledge I think it's a plus. Also we have a very good infrastructure, which is very strong in our world region. The main difference might be in terms of access. The truth also is that I haven't worked in many places abroad, so I cannot compare very well, but I do know that the BioImaging team in Uruguay is doing its utmost in terms of training, infrastructure and capacity building.
Can you tell us a bit about your path, and how it has shaped you as a microscopist both at home and abroad?
I studied a degree in Chemistry, but I always loved biology and immunology  In my 4th year of the BSc I discovered my love for immunology. I did an internship in my 2nd year, in inorganic chemistry and crystals, and then I got a position doing organic chemistry for 2 years. But I felt this is not really what I wanted to do. Then I tried industry to see whether I liked it. And then I went back to basic science with Maria.
Did you have many opportunities to interact with other Latin American groups, outside of Uruguay?
Not much. I think many Uruguayans (and perhaps Latin Americans) tend to look into other world regions like the USA or Europe, when thinking of collaborations. Hopefully this changes in the future. In terms of networking, there is a course on trypanosomatids, which changes location every year. I attended once and got to know several people, especially as Trypanosoma infections are a major public health concern in our world region. Also, in the first year of my MSc I went to Buenos Aires to a course in microscopy, led by a very famous microscopist Dr. Francisco Barrantes. He showed us a super-resolution microscope he is building, and it was great! Also, Maria Eugenia's lab has a lot of collaborations with Erica Martins Duarte in Brazil.
Have you ever faced any specific challenges as a Uruguayan researcher, working abroad?
I haven't noticed specific cultural challenges. I believe it also helps that I'm very outgoing. But overall I've only been in France so I don't have many points of comparison.
Who are your scientific role models (both Uruguayan and foreign)?
I think there are many Uruguayans doing great science who are outstanding despite the challenges in terms of financing and resources. Amongst my role models, Dr Rafael Radi with his amazing work in biochemistry, Leonel Malacrida, Cecilia Fernández, Gustavo Salinas, Ricardo Faccio, Gonzalo Moratorio, Pilar Moreno, Francisco Barrantes was very inspiring, Carlos Robello as well, Gregorio Iraola who has done fantastic things in terms of sequencing in Uruguay. Dr. Yester Basmadajian with her work in Trypansoma cruzi and Leishmania spp in Uruguay. And of course my supervisor Maria Eugenia Francia is one as well. But this is a difficult question – I don't want to leave anyone out!
What is your opinion on gender balance in Uruguay, given current initiatives in the country to address this important issue. How has this impacted your career?
I would say gender balance is a concern world-wide: we are far from gender equality everywhere. I think in our lab we are a bit of an exception: our lab is led by a woman, and the majority of people are women. But in terms of hierarchy – most leaders at the highest positions are not women. And with my direct supervisor, I think we have a reasonable relationship – I think gender has nothing to do with it.
What is your favourite type of microscopy and why?
I love TEM, because here one can see huge amounts of detail. But now that I have been working on confocal and expansion microscopy, I love it too. I love being able to look inside this microworld, the very small components of life.
What is the most extraordinary thing you have seen by microscopy? An eureka moment for you?
I was in the lab on a Saturday morning and I saw for the first time (acetylation) in Toxoplasma using Expansion microscopy. This was mind-blowing. Another time was when I went to the EM, and saw perfectly dividing parasites in vacuoles of two.
What is an important piece of advice you would give to future Uruguayan scientists? and especially those specializing as microscopists?
This is a very philosophical question. I reckon my main advice would be do what you truly love. Sometimes I took wrong turns in my decisions, but always ended up coming back to what I know I truly like. To be able to do what one loves, is a plus in life.
As an early career researcher, what are your plans for the future?
I first want to finish my PhD – I have two more years of fellowship in which I want to finish a few more stories I've been working on. After that I don't know very well. Perhaps go abroad and have this experience, and then come back to Uruguay. But if there's a great postdoc opportunity in Uruguay, I would do this too. Regarding the topic, I think Toxoplasma spp. are a bit harder to work with. I like Trypanosomes too. But I don't yet know which one I would pursue further later on.
Where do you see the future of science and microscopy heading over the next decade in Uruguay, and how do you hope to be part of this future?
In terms of microscopy I think we are making progress. In terms of science, for a long time there were major cuts to investment in science. This has changed recently. But it's difficult to do research without political/governmental prioritization. I believe nonetheless, that in the last 40 years, the system has improved enormously. I think this progress and momentum will continue.
Beyond science, what do you think makes Uruguay a special place to visit and go to as a scientist?
I think in terms of science we have a lot: with little resources we do a lot. There are fantastic groups at Institut Pasteur, at la Universidad de la República (the largest in Uruguay), the Instituto Clemente Estable, Polo Tecnologico de Pando, etc. There is a lot of commitment and good will to work on science. Beyond science, I think Uruguay is a wonderful country to live in: beautiful beaches, a great weather, great food, we love football and nice food. And Montevideo as a city is also great. I love living there. Other places, like Punta del Este and Rocha, are lovely too. If you love nature, there's a lot to see too  It's a very unique place.