As a continuation to the series of blogs called "how it started…", where we shed light on the journey through the origins of various imaging communities around the world, we speak to Euro-BioImaging and GBI. Our mission for this series is simple yet powerful – by learning about the visions and goals of these communities, we hope to inspire and educate others who aspire to create their own communities, whether in their own continent or country. In this edition, we have the privilege of spotlighting the stories of these two initiatives: Global BioImaging and Euro-BioImaging. These organizations have emerged as driving forces in their respective domains, and we are excited to share their experiences and insights with you. So, without further ado, let's discover the remarkable stories that lie within through the eyes of one of the founders Antje Keppler, Section Director Euro-Bioimaging Bio-Hub, and Yara Reis, GBI's External Relations Manager at EMBL.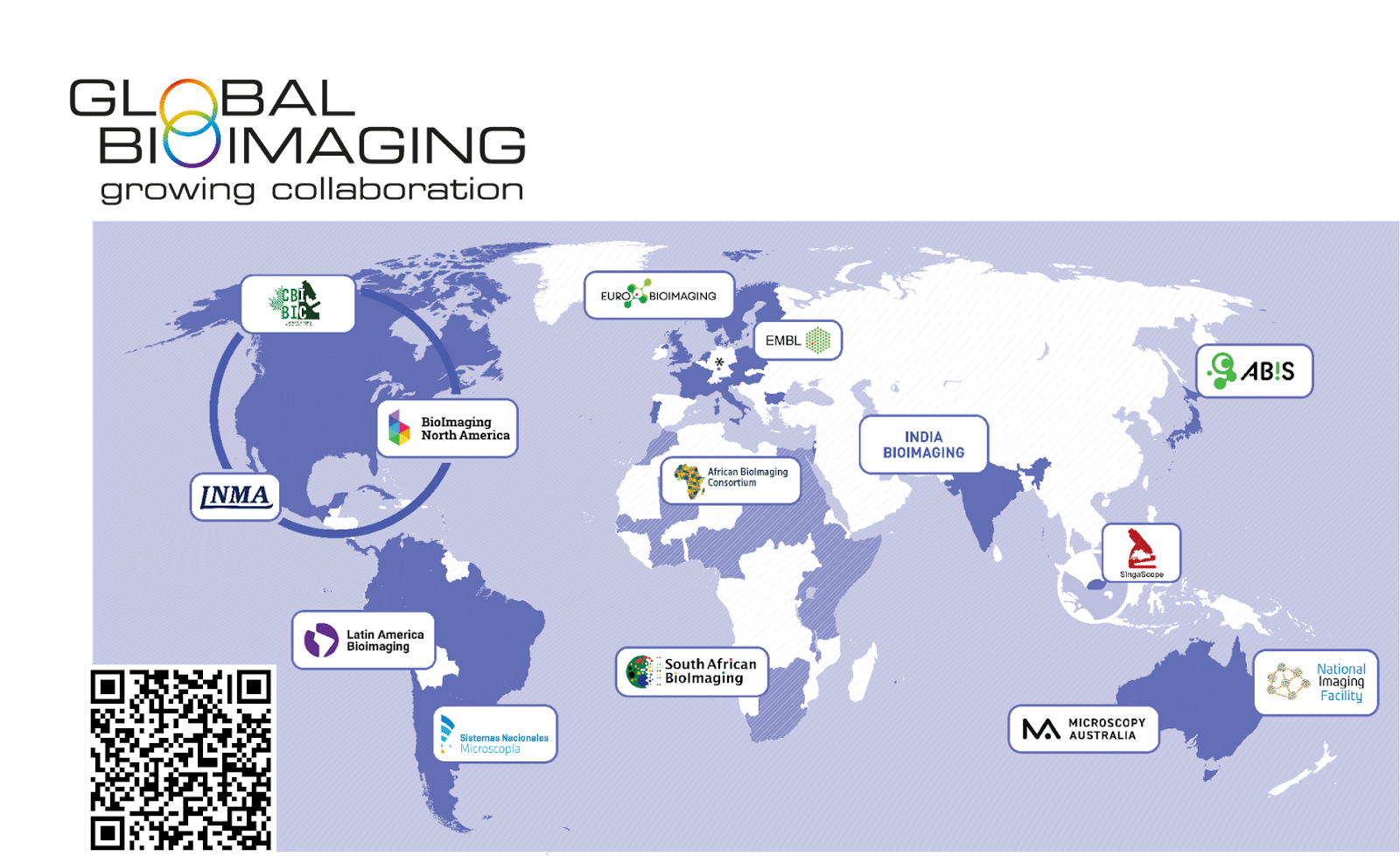 What sparked the initial idea and motivation behind the Euro-BioImaging community?
AK: Euro-BioImaging planning started in 2009, but the seeds of this journey were sown when the European countries recognized the need for a more strategic approach to research infrastructure (RI). They realized that individual nations making independent funding and development decisions could result in duplication of efforts and wasted resources; therefore a collective effort was initiated. In parallel, the EU countries recognized the significance of imaging for life sciences and its necessity as a strategic topic that should exist on the European RI roadmap. So, when the 2008 European roadmap identified not just the physical sciences, high energy science and astronomy, but also bioimaging, the circumstances were at last right to write a proposal to develop the bioimaging community and secure funding.
How did you feel to be part of such a monumental undertaking?
AK: When I first learned about these plans, it sparked my curiosity, and I applied for the project manager position for Euro-Bioimaging back in 2009 when it started. From that point, we were busy writing proposals, securing funding for the planning phases and laying the groundwork for this significant initiative. However, there was a particular moment that remains etched in my memory, when Jan Ellenberg, Scientific Coordinator of Euro-BioImaging's Preparatory Phase projects, handed me a piece of paper with over a hundred names on it. He said, "These are key people across Europe whose involvement and commitment are crucial to the success of our vision for a European emerging infrastructure." It was a moment of both awe and trepidation, knowing that the success of our endeavor relied on the engagement and dedication of these esteemed scientists.
Could you share your experience of the first official meeting you attended as part of this initiative?
AK: The list was going all over the place, and new people were joining all the time. It was hard to keep track of everyone, but then comes another moment which is a turning point in the history of this initiative. During the first stakeholder meeting that took place in Heidelberg in September 2009, a significant interaction took place with UK scientists. In the evening, the group from the UK gathered in a corner of the canteen, engrossed in discussions. Curiosity piqued, we wondered what was transpiring within their huddle. Then, after one hour, they came back to us and said, "We have launched UK BioImaging, and Jason Swedlow is our main point of contact for coordination and communication regarding this initiative". That was a pivotal moment, the birth of a national imaging community,unity was born! In the years to come, this concept was copied across Europe. The next were Germany and Spain some months later, followed by Finland, the Netherlands, Italy, Bulgaria, later on Denmark and over the next couple of years, from 2009 to 2013, 27 national imaging communities were launched. Through the emergence of these communities, we built the basis to start the intergovernmental working group in Euro-BioImaging, which was responsible for all the legal, financial, and political matters to get Euro-BioImaging off the ground.
After establishing connections with various national communities, what steps did Euro-BioImaging take next to progress the initiative at the international level?
AK: In 2011, I attended a conference in Brussels at the European Commission, where a workshop aimed at fostering international collaboration between Europe and Australia was organized. This event marked the beginning of a friendship between Euro-BioImaging and Microscopy Australia that has lasted for over 12 years. During the conference dinner, we announced our first collaboration agreement, solidifying our partnership. Following this, we traveled to Bangalore, India, where we had connections at the National Centre for Biological Sciences. In 2012, India Bioimaging was successfully established as a community. By then, we had formed two international partnerships with Australia and India, which gave us the motivation to apply for EU funding to launch a new international network of imaging infrastructures and communities called Global BioImaging (GBI). In 2016, our GBI project was launched, and Argentina became one of the first associated partners. Japan also joined the initiative that year, presenting their freshly established National Imaging Infrastructure AbiS. Singapore later joined after an exchange of experiences in Bangalore, and gradually, the initiative expanded globally. Currently, we have 12 partners in total.
"Individual nations making independent funding and development decisions result in duplication of efforts and wasted resources"
What are the conditions for joining GBI?
AK & YR: To become a partner in GBI, it is essential for individuals or organizations to demonstrate that they can ensure inclusivity and prevent any instances of individuals or groups from the same country from feeling excluded or left out. This criterion is considered a deal breaker, as maintaining a super-inclusive, open, and transparent environment is of the utmost importance.. The operational structure of GBI has intentionally been kept minimal and flexible. Rather than imposing numerous rules and procedures, the emphasis has been on maintaining a light and adaptable framework. This approach has been chosen to foster a dynamic and collaborative environment. Therefore, the starting point for participating in GBI is the understanding that the organization values a relaxed and flexible approach to collaboration with minimal bureaucracy.
Can you tell me more about yourself and why you pursue that career path?
AK: During my time as a postdoctoral researcher, I focused on conducting research and developing imaging techniques and probes (i.e. SNAP-tag). However, towards the end of my postdoc, I decided to transition away from science to the management field. Joining Euro-BioImaging provided me with a unique opportunity to merge my expertise in imaging with my experience in scientific management. Here, I was introduced to the concept of open access, where RI opportunities are accessible to all based solely on the excellence of their research inquiries. This realization strongly resonated with me and affirmed that this inclusive approach is the path to progress. I had no prior knowledge about the European Commission or the dynamics of science politics. However, I had a strong belief in the future of research based on open access. The journey has been challenging, with constant obstacles and uphill battles, but it has never lost its excitement. I have remained devoted to it with the same level of enthusiasm as I had on the very first day. As time passed, everything else gradually grew alongside it. I initially started as a junior project manager, overseeing a preparatory phase, and now I'm the Director of the Euro BioImaging Bio-Hub. On a personal level, I am particularly enthusiastic about visiting Finland during the summer for activities such as fishing, mushroom picking, hiking, and immersing myself in the great outdoors. I have a deep love for travel, fostering community connections, and engaging with individuals who share a common vision of collaboration for the betterment of scientific endeavors.
How does your work define your values in life?
AK: I believe in inclusiveness, giving everyone the opportunity to achieve something and equal accessibility to all the needed connections and networks. Science diplomacy is a concept that I strongly believe in because scientists have maintained open communication channels in an increasingly complex world. It is our responsibility to utilize these communication channels to foster collaboration among countries at various levels. Moreover, it is important to facilitate the mobility of individuals within Europe, allowing young scientists to seize funding opportunities and travel from one country to another for short periods of time. This enables them to broaden their horizons and establish connections with potential future collaborators. That is a very big and important goal and motivation for me.
What do you enjoy most in your work?
AK: I enjoy the community and its fantastic people. The joy for life that imaging scientists somehow bring along.
How would you define GBI to new imaging scientists in terms of its vision, goals, mission, and roles in the imaging community?
AK & YR: We can provide an international perspective on the future of imaging and the field itself over the next five to ten years. Additionally, we aim to offer a platform where individuals can seek assistance and guidance. One aspect we focus on is promoting the exchange of ideas and knowledge sharing among professionals working with image data. We facilitate collaboration between colleagues from different regions, such as Africa, the Americas, Japan, Europe, and Australia. This involves discussions on the establishment of data centers dedicated to image data and the development of standardized file formats. GBI serves as a hub for international working groups, covering technical and operational topics, as well as career development. Furthermore, we strive to develop guidelines that support individuals in their professional lives. These guidelines can help individuals feel less isolated by providing them with concrete documents they can present to their institutions. These documents serve as a basis for discussions with their superiors, enabling them to advocate for the implementation of specific points, such as those outlined in our guidelines. Our goal is to empower individuals by offering them resources and a collective voice, ensuring their work is taken seriously within their universities and institutions.
What are the challenges currently faced by the imaging community, and how is GBI working towards addressing these challenges?
AK & YR: GBI has been advocating for the past 8 years to elevate the priority of imaging in research with public and private funders. However, one of the major challenges we face revolves around data management. The rapid emergence of new technologies means that vast amounts of data can be generated with a single click. The challenge lies in effectively utilizing and storing this big data while ensuring open accessibility. Another significant challenge is training and building the necessary capacities to handle advanced technologies. As instruments become more sophisticated, expertise is required to utilize them effectively. However, the reality is that most universities worldwide lack the resources to build, run and maintain such cutting-edge machines as those found in prestigious institutions like Janelia. This is where initiatives such as Africa Microscopy Initiative (AMI), driven by Teng-Leong Chew (Advanced Imaging Center, Janelia), become crucial. They aim to bridge the gap between scientists and advanced imaging technologies, regardless of their geographical origin. Addressing this challenge is of utmost importance due to the lightning-fast development of technologies, combined with the exponential growth of data production. In addition, the general public often struggles to comprehend the intricacies of our work. While they may be familiar with microscopes from their school days, they are unaware of the new instruments that allow us to observe live, high-resolution images of organelles within cells or even the dynamic behavior of individual molecules. Explaining and illustrating these advancements can be challenging, particularly in terms of how they relate to solving societal issues. For example, studying coral reefs underwater using microscopy techniques can provide insights into mitigating the impacts of climate change. Similarly, analyzing soil samples can contribute to advancements in agroecology. It is essential to train imaging scientists to communicate these concepts and connect them to real-world applications effectively. During the last exchange of experience, the topic of the impact of imaging on society was extensively discussed, with a focus on enhancing clarity in our explanations and effectively utilizing the images we generate to engage the public. Yara, being familiar with these challenges, can attest to the importance of clear communication and visual representation in our outreach efforts. We are often defined by our abilities and the tangible outcomes of our work. Astronomers, for instance, captivate us with stunning images of stars and galaxies, even if we may not fully comprehend their significance. In contrast, when it comes to imaging in other fields, such as bioimaging, we face challenges in capturing public attention and conveying the meaning behind our images.
Part of our task is to empower communities to effectively share their stories and demonstrate the value of imaging in their research. One of the major challenges lies in accessing the data and translating its importance to the wider public. Science communication plays a vital role in addressing this challenge. Engaging platforms like FocalPlane or blogs by imaging scientists can help deliver these messages to the scientific community and beyond, fostering a better understanding of the significance of imaging in research.
"We aim to bridge imaging gaps in low-middle-income countries…"
How have you been working to address infrastructure inequality and improve access in less-developed regions like Africa and Latin America? I'm interested in learning more about the goals and agenda of GBI in tackling these challenges.
AK & YR: Our approach involves engaging communities, like those in Africa, through initiatives such as African BioImaging Consortium and AMI and collaborating with organizations like Latin America BioImaging and counterparts in Mexico. We're intentionally expanding international training courses to these regions, moving away from exclusive locations like Heidelberg, London, or Stockholm. The goal is to offer advanced imaging training where access is limited. Our primary agenda is to make limited global bioimaging resources available to those who truly need them, especially since accessing these resources elsewhere might not be feasible.
Additionally, our travel grants and job shadowing program emphasize equity for Low-Middle Income Countries (LMICs). This inclusivity extends to emerging researchers from various continents who often miss out on such opportunities. While there's a desire for dedicated job shadowing, budget constraints may lead to focusing on other priorities.
Excitingly, we're anticipating the launch of "Imaging 4 All- i4All" – a groundbreaking initiative backed by the Wellcome Trust and led by Global BioImaging. We aim to bridge imaging gaps in low-middle-income countries (LMICs), enabling access to cutting-edge technology, training, and immersive learning across continents and scales. Through transparent selection, strategic outreach, and ongoing impact analysis, we seek to empower LMIC imaging scientists, catalyze global collaboration, and advance science locally and globally.
Stay tuned and join our EoE2023 annual conference: "Training around the Globe," South Africa, October 25th – 27th, where new opportunities will be announced (See Figure below and scan the QR code for more details)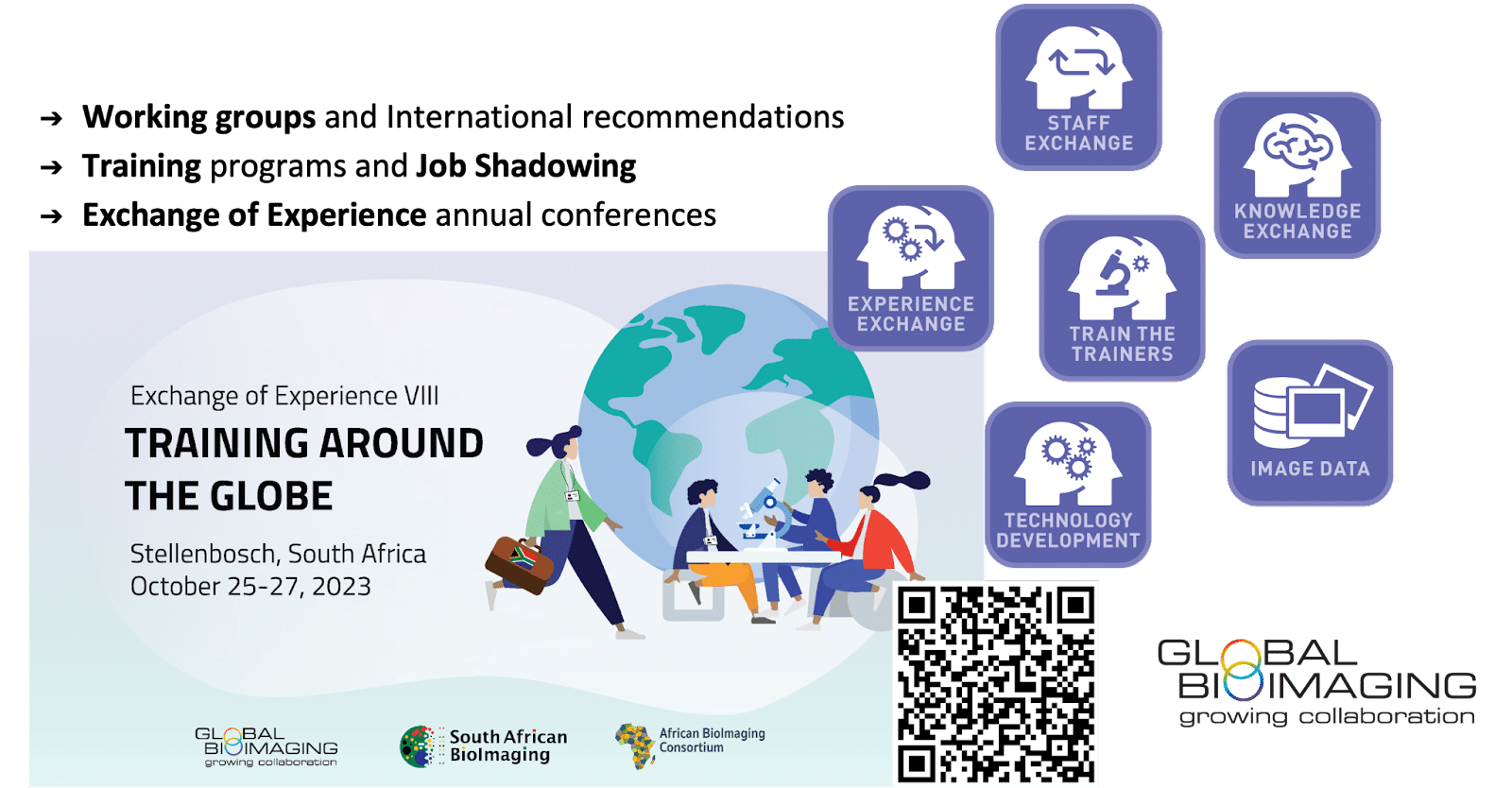 How does GBI choose and prioritize the issues it wants to take a leadership role in? Could you also share an example of a project that the organization has particularly enjoyed during its work and explain why it was enjoyable?
AK & YR: In GBI prioritization has not been a frequent necessity. However, we do pay close attention to the community's input on new topics. It is crucial for us to be cautious about not becoming overwhelmed, as our work heavily relies on the dedication and volunteerism of the community. We don't undertake all the work on behalf of everyone. Instead, we encourage the emergence of new ideas from the community itself. These ideas are then developed in working groups, such as the recent one focused on how to communicate effectively with funders. This working group originated from a request that arose during the Montevideo meeting last year, where individuals expressed the need for support in engaging with funders. Now, members of the community are actively participating and taking action in this group. It is truly inspiring to witness how the community takes charge of urgent topics, and our role is to coordinate and facilitate connections. We listen, identify individuals with relevant experience or resources, and then connect them. However, we recognize our limitations in terms of manpower, as we have a large community but limited hours per week to dedicate to this – mostly pro-bono – work. Our approach is more focused on empowering, linking, connecting, and occasionally taking a step back to appreciate the positive developments that unfold.
How do you anticipate the future growth and development of Euro-BioImaging and GBI in the upcoming years?
AK: I hope that Euro-BioImaging continues to grow as an infrastructure and expands its reach to include more scientific communities and countries. However, our main challenge lies in ensuring that the scientific community becomes aware of our existence and the services we offer. This interview provides an excellent opportunity for me to convey this message. We are open and ready to assist anyone in need of imaging services. My dream is that in five years when I ask a PhD student if they have heard of Euro-BioImaging, they will respond with a resounding "yes". It would be wonderful if, three years from now, you could announce the launch of Egypt BioImaging, with the acquisition of two new microscopes and the hiring of three staff members dedicated to operating those microscopes. Additionally, you would have conducted training courses and empowered 200 students by the end of 2027, equipping them with a much deeper understanding of imaging than they possess today.
With the end of this interview, I aspire to convey a message that emphasize on the crucial need of the resource-constrained countries to adopt a cohesive vision and a more strategic collaborative approach towards establishing shared imaging core facilities. This shift is imperative for advancing science on a global scale and ensuring that every nation, regardless of economic resources, can actively contribute to the progress of knowledge and innovation.
"Imaging 4 All- i4All"
Let the the Euro-BioImaging & GBI story inspire you to begin your own imaging adventures and motivate you to start a similar endeavor.
References:
1- Global BioImaging – https://globalbioimaging.org/
2- Euro-BioImaging – https://www.eurobioimaging.eu/
3- African Microscopy Initiative-: https://www.microscopy.africa/
4- Exchange of Experience- 2022: https://globalbioimaging.org/exchange-of-experience/exchange-of-experience-vii
5- GBI- Impact and Community: https://youtu.be/O26u4Fd7M2o
6- Wellcome Trust Article: https://wellcome.org/news/unblocking-barriers-progress-bioimaging
7- Exchange of Experience 2023: https://globalbioimaging.org/exchange-of-experience/exchange-of-experience-viii
8- Working Groups: https://globalbioimaging.org/working-groups