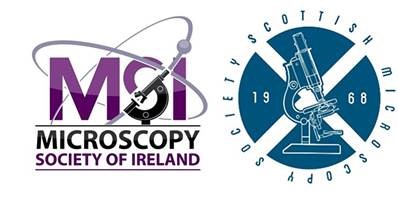 The Microscopy Society of Ireland and the Scottish Microscopy Society are delighted to be running their 2nd Joint Symposium this year in the beautiful Galway Bay, Ireland. The event will be the first in person event that either society has run since COVID began, and will have a strong focus on networking. The main aim of both Societies is to foster discussion and cooperation between those who use any form of microscopy in their work, whether this be in the academic or the industrial world, and are multi-disciplinary at their core.
The annual symposium is the MSI's premier event, where student participation is highly encouraged. Historically, the symposium has provided an excellent forum for young researchers (particularly at postgraduate level) to present their data and findings at a conference, where PhD students of very disparate backgrounds can engage in scientific debate. The Societies are really keen for ECR participation, and as such are offering £1000 worth of travel grants to make it easier for ECR delegates to travel to Ireland, thanks to generous prizes awarded by industry partners.
The following awards are available:
A student travel grant prize talk, in collaboration with Jeol and FocalPlane. These awards of £200 will be chosen on scientific merit, and the recipient will be allocated a prize talk alongside the money. In addition, the FocalPlane winner will write a short piece for the FocalPlane website, on a subject on their choice. These awards are open to all current PhD students. Abstracts centred around Biology/life sciences are encouraged to enter the FocalPlane competition, whilst physical/materials-based abstracts should enter the Jeol competition.
The Chan Zuckerberg (CZI) Initiative award for most technologically innovative student talk/poster. CZI is a philanthropy founded in 2015 by Dr Priscilla Chan and her husband, Facebook founder Mark Zuckerberg to help solve some of society's toughest challenges — from eradicating disease and improving education, to addressing the needs of our local communities. This award of €250 is open to all current students.
4x £100 travel bursaries are available to subsidise travel of 4 Scottish ECR delegates sponsored by the RMS Early Career Committee. Any person undertaking work in the field of microscopy at a Scottish University and belonging to one of the following categories is eligible for this travel bursary: Current undergraduate/postgraduate/Masters/PhD students; or within 8 years of starting work or studies in a microscopy-related field (excluding career gaps).
The day will include microscopy talks from across various microscopy themes such as advances in image analysis, correlative light & electron microscopy, instrument development, as well as materials and microscopy for biological applications. There will also be a dedicated ECR session, poster sessions, trade delegates and community panel discussions, as well as a conference dinner and plenty of opportunities to network.
There are some absolutely fantastic keynote and invited speakers from across Ireland, Scotland and Europe. Our keynotes include Dr. Ulrike Boehm from the Janelia Research Campus who will be talking to us about her work on novel super resolution microscopy approaches, Dr Garry Duffy from NUI Galway on his work in the field of intravital microscopy, and Dr Anna Sartori-Rupp from the Institut Pasteur in Paris, on her work on correlative light and electron microscopy.
For more information about the program, registration and abstract submission, visit the MSI webpage.
Looking forward to seeing you there!