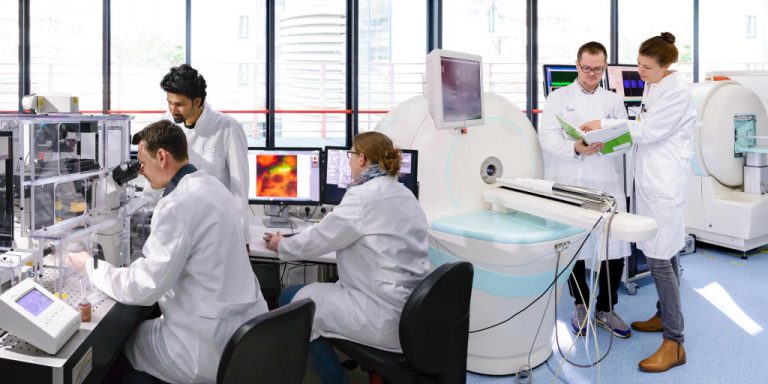 The Microscopy Unit of the Imaging Network at the University of Münster, Germany, is seeking to fill the position of a
Postdoctoral Research Associate
Wissenschaftliche/r Mitarbeiter/in
(salary level TV-L E 13, 100%)
from 1 June 2021. We are offering a fixed-term full-time position for 5 years. Full-time employees are required to teach 4 hours per week during the semester.
The Imaging Network is part of the Cells in Motion Interfaculty Centre and provides scientists at the WWU with expert support in the application and development of modern imaging technologies, including super-resolution microscopy, confocal and multiphoton microscopy, TIRF and high content screening. The network coordinates the booking, maintenance and repair of high-end microscopes, and trains users in the handling of complex instruments and image data analysis. Currently the Imaging Network supports more than 25 microscopes and over 250 users per year.
Your tasks:
The focus of the position will be on processing, analysing, and storing large image data sets. The applicant will work in close collaboration with local researchers to support the analysis of microscopy data. He or she will develop procedures for image restoration and segmentation, batch analysis and high-content screening, and will establish and apply deep learning approaches for image restoration and classification. The applicant will also develop and integrate new image analysis scripts into a central OMERO-based image database.
Our expectations:
A PhD degree in Physics, Biology or Chemistry
Extensive experience working with advanced light microscopes
Extensive experience in the quantitative analysis of microscopy images using image analysis software (e.g., Fiji/ImageJ, ilastik)
Experience in ImageJ macro programming
Experience in Python (preferred) and Matlab programming
Experience with image analysis softwares Huygens professional and Imaris is an advantage
Excellent communication skills
Preferred skills:
Good command of written and spoken German and English
Ability to work independently
Ability to work in a team, motivated and service orientated
We offer an interesting and fulfilling job in a cutting edge and international scientific environment. As a member of a young and dynamic team, there will be plenty of room for personal development.
The University of Münster is an equal opportunity employer and is committed to increasing the proportion of women academics. Consequently, we actively encourage applications by women. Female candidates with equivalent qualifications and academic achievements will be preferentially considered within the framework of the legal possibilities.
The University of Münster is committed to employing more staff with disabilities. Candidates with recognised severe disabilities who have equivalent qualifications are given preference in hiring decisions.
Positions can generally be filled as part-time positions if there are no compelling work-related reasons against doing so.
If you have any questions, please contact Dr Thomas Zobel (thomas.zobel@uni-muenster.de / +49 251-83 59057) or visit www.cells-in-motion.de.
We look forward to receiving your application by May 18th, 2021 with the usual documents in one PDF document at:
Westfälische Wilhelms-Universität
Prof. Dr. Susanne Fetzner
Dean of the Faculty of Biology
Dekanat.Bio@uni-muenster.de
Please note that we cannot consider other file formats.