The Portable, Upgradeable, Modular, Affordable (PUMA) microscopy system is an advanced open source multimodality microscopy system that you can build as a DIY project using 3D printing for the custom components and generic off-the-shelf fixings and optics. It can do full Köhler illumination (even for low power x4 objectives) and has an Abbe condenser for high NA imaging (including oil immersion) but the illumination modes don't stop there.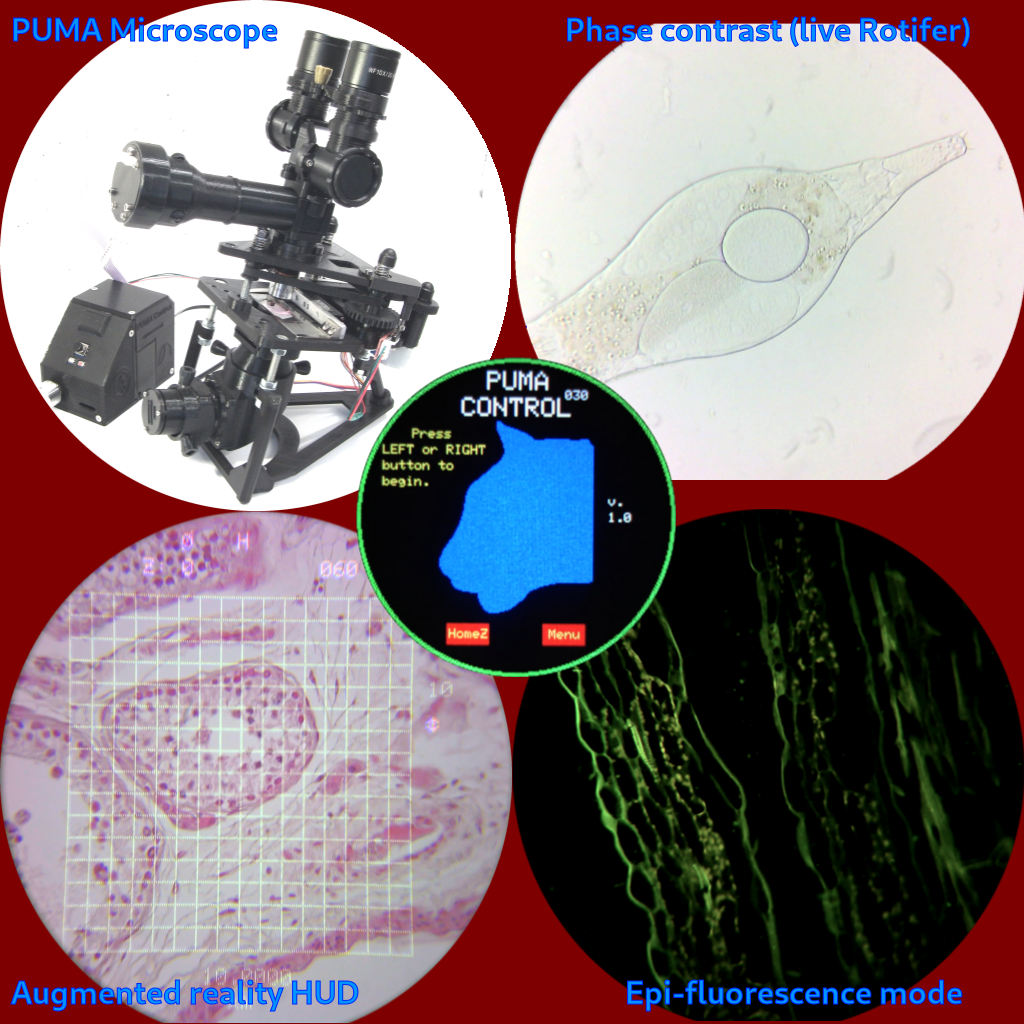 You can also do trans-polarization, epi-polarisation, epi-illumination with white light or narrow band wavelengths for epi-fluorescence microscopy with various fluorophores. You also have easy access to the condenser's Fourer plane via a simple filter slot mechanism that allows for specialist illumination modes like dark ground microscopy, and Schlieren phase contrast (which uses ordinary, non-phase, objectives).
The 3D printed stage mechanism allows for the use of standard stage clips or an XY mechanical Vernier slide holder that can screen the whole surface of a standard 25×75 mm glass microscope slide. The stage can also be motorised for focussing.
It is ofupright design and is a direct vision microscope. It uses professional quality optics and has some very advanced features not usually found on even the most expensive commercially available microscopes. These include a computer-controlled and programmable TFT-screen-based Spatial Light Modulator for optical Fourier filtration allowing for optimised / dynamic / adaptive apertures. Also, unique to any 3D printed microscope to date, an augmented reality projector system – which is also programmable. Some advanced applications you can do with these are AI microscopy, specimen-directed aperture optimisation, digital measurements, 3D tomography, Fourier ptychography, etc.
The system is fully customisable – the original FreeCAD source files are all available on the GitHub page so you can customise the scope to meet your individual project needs. The PUMA system is also peer reviewed and published in the Journal of Microscopy so you can easily reference it if you use a PUMA system for your own research.
If the DIY aspect puts you off then fully built 'Foundation scope' configuration PUMA microscopes (i.e. the full working basic microscope without advanced add-ons) can be purchased from the OptArc store (international tracked delivery is available) at OptArc.co.uk where you can also download detailed user manuals as PDF files (free of charge) – just visit the 'Support' pages.
Project Author(s)
Dr Paul J. Tadrous
Project Links
GitHub
Project Video
https://youtu.be/7UbkrZyNgpo