Our featured image shows an ultrastructure expansion microscopy image of a procyclic Trypanosoma brucei labelled with anti-acetylated tubulin in magenta, DAPI in cyan and a flagellar marker in yellow. The image is a z-projection of maximum intensity. The image was acquired in the Trypanosoma cell biology unit at the Institut Pasteur of Paris (headed by Philippe Bastin), under the supervision of Serge Bonnefoy and with the help of Lorette Brechenmacher.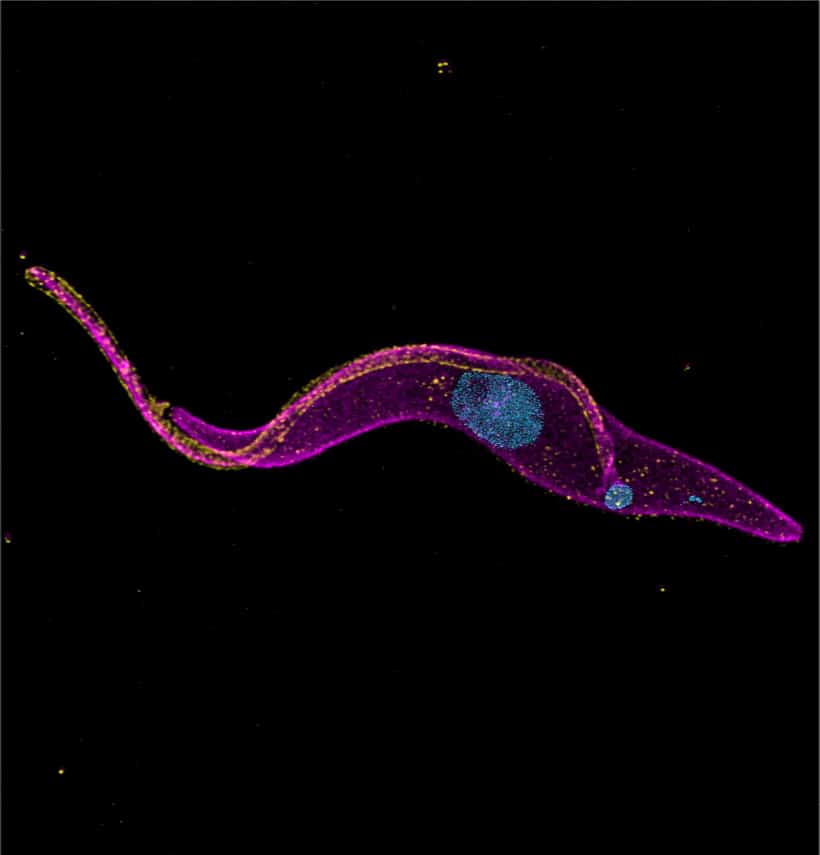 We caught up with Ramiro Tomasina to find out more about his research career and what he is excited about in microscopy.
Research career so far: I completed my PhD at the University of Republic in Uruguay in 2023, in the laboratory of Dr Maria .E. Francia at the Institut Pasteur of Montevideo, During my PhD, I studied the role of two centrosomal proteins involved in coordination of endodyogeny in Toxoplasma gondii. My thesis also involved two internships at the Trypanosoma cell biology unit at Institut Pasteur in Paris (headed by Dr Philippe Bastin), where I worked with basal body proteins in Trypanosoma brucei, and one internship at the Institut Pasteur of Lille at the laboratory of Dr Mathieu Gissot, where I worked with centrosomal proteins in Toxoplasma gondii.

Current research: My current aim, in the host-interaction laboratory at the Institut Pasteur of Montevideo (headed by Dr Carlos Robello), is to contribute to the understanding of the molecular footprints behind Chagas diseases in heart cells.

Favourite imaging technique/microscope: I would say my favourite technique would be ultrastructure expansion microscopy combined with confocal microscope, because it is a technique that allows us to reach an impressive resolution without having to switch to a more expensive – and sometimes – unreachable microscope.

What are you most excited about in microscopy?
I think the concept of reaching an 'unseen world' by using a machine is amazing. When I tell my friends about the microscopy that I do in my daily life at work, they are fascinated and so am I!
To find out more about Ramiro, check out his interview with Mariana De Niz in her 'Latin American Microscopists' interview series.