The Physics of Life in Bioimage Analysis Symposium (#PoLBIAS23) in Dresden from 30th August to 1st September 2023 was a successful event, bringing together scientists across various fields of bioimage analysis.
After an enriching 2.5 days of training school, our symposium is now set to dive deep into cutting-edge knowledge and foster scientific exchange. In his opening remarks, Robert Haase celebrated 10 years of Bioimage Analysis Symposia (BIAS) across Europe.
Screenshot of Robert Haase's opening talk slides showcasing 10 years of BIAS across Europe.
Session 1 – Artificial Intelligence I
The first session focused on artificial intelligence applications in bioimage analysis, providing a thought-provoking overview of bioimage AI advances and open problems. Speakers covered diverse topics including deep learning for histopathology, data integration for developmental biology, and motion-based segmentation.
Jakob Kather's keynote provided historical context on AI in medicine and how the technology is slowly but steadily becoming part of commercially available clinical solutions. He noted that in their work, using weak annotation, deep learning systems can be trained on large images and used to make spatially resolved predictions. Applying this to tumor tissue allowed the visualization of tumor heterogeneity via heatmaps. However, "black box" models raise questions. He emphasized that new techniques in medicine must advance interpretability and capture biological complexity.
Paul Villoutreix showcased how mathematical techniques could be used to combine single-cell morphology and functional data to study cardiac development. Oliver Saldanha proposed "swarm learning" to enable data sharing while preserving privacy. Suse Seidemann showcased machine learning to quantify photoreceptors in age-related macular degeneration. Till Korten presented a novel movement-based approach to analyze microtubule dynamics. Till was also part of the training school that preceded the symposium, where he taught a Python crash course. Petr Strnad, from Viventis, presented their open-architecture light sheet microscope with Python control for versatile dual-view acquisition.
Throughout the session, collaboration was highlighted as an important theme, and each speaker referred to shared projects, collaborators, and common projects. Takeaways included the need to advance interpretability in medical AI and the need for careful validation of new analysis methods.
An important question for AI: What is worse, a false-negative or false-positive result? I.e. Thinking about diagnostics, such as in breast cancer classification.
"The session also nicely demonstrated how important high-quality data management is. Properly stored, annotated and maintained data sets are the gold of the age of artificial intelligence." – Robert Haase
Session 2 – Artificial Intelligence II
The second session also showcased AI for bioimage analysis, but focused on tools. The keynote was given by Beth Cimini who's inspirational keynote highlighted how to establish equity and equality in software and computing access. As an example, browser-based options for segmenting images without coding were shown. Beth highlighted that one of the reasons for the long-running success of CellProfiler (soon to be 20 years!) was that it was developed closely to end-users, and things such as in-app documentation were a major pillar for app usability. Her keynote was truly inspirational, talking about bringing a fragmented community together, highlighting the joint efforts needed to advance science, and most importantly to create equity and equality to build the things that people need, and that they need right now.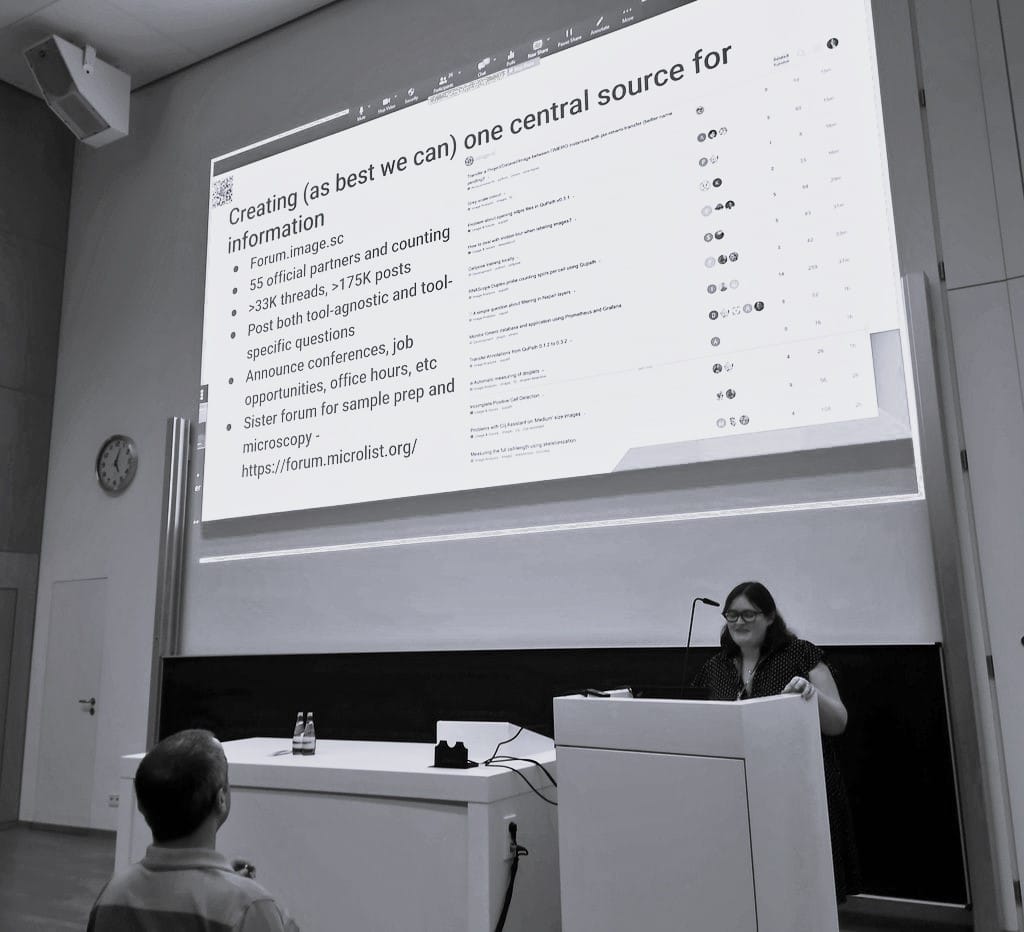 Picture of Beth Cimini's keynote shared with permission from Robert Haase.
Anwai Archit presented on the hot topic "Segment Anything for Microscopy" – this talk also won the best talk award! In a sponsor talk, Matthäus Mittasch from Dewpoint talked about condensate-targeted drug discovery powered by AI-generated phenotypic signatures. Jianxu Chen discussed the importance of resource-aware AI, and how to consider balancing model accuracy with speed and energy usage.
Speakers emphasized equitable training resources and shared infrastructures. Multiple open-source options help users apply AI techniques. But sustainably supporting platforms like Galaxy remains an open need. Enabling broad access while advancing efficiency was a dual focus. The talks underscored that method advancements should consider usability and scalability. Collaborative tools can make complex AI more intuitive and catalyze discovery.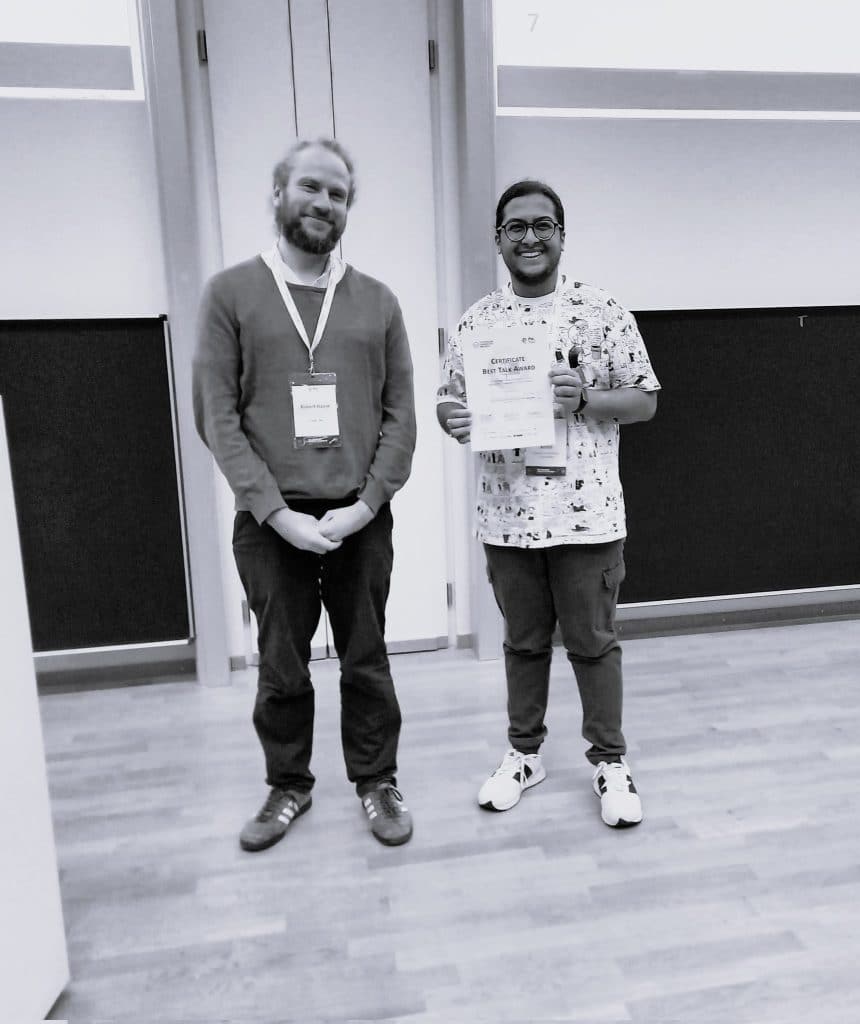 Photo of the "best talk" winner Anwai Archit shared with permission from Stefan Hahmann.
Session 3 – Core-Facility Management
In this session speakers showcased the "behind the scenes" and explored the evolving roles and opportunities for bioimage analysis core facilities. The keynote by David Barry outlined challenges including rapid technology changes and rising data scales, noting that there are around ~50 microscopes and ~1500 scientists at The Francis Crick Institute served by their facility. A key takeaway was that scientists should consult image analysts before (!) acquiring data.
Stéphane Rigaud described their work at the Institute Pasteur and how the group tracks usage and how they balance open hot desks, authorship issues, and complex multi-year projects. Robert Haase framed core facilities as "knowledge incubators", highlighting the long-term benefits of end-user training in general and pair programming in particular to transfer expertise.
A key theme was democratizing methods of access through training and resources beyond physical infrastructure. But sustainability remains an open question, as demand increases while costs and expertise needs rise. Overall, core facilities play a critical role in connecting end users with enabling technologies and methods. Strategic planning and community support can help facilities stay at the cutting edge while promoting open science. Further integrating core staff with users and projects can enhance scientific outcomes.
Session 4 – Research Data Management
Beyond the data! Speakers addressed key data management challenges in bioimage analysis, but also collaborative solutions. Susanne Kunis' keynote noted scientific advances to be data-driven, yet infrastructure limitations impact users. She emphasized planning data management early and capturing metadata to increase accessibility and interoperability.
Sebastian Munck likened data to be like oil – a precious resource, often reacquired when ownership is unclear and he showcased an end-to-end data lifecycle model. Jens Wendt presented tools for streamlined OMERO metadata tagging to capture experimental context. Michele Bortolomeazzi highlighted integrating diverse analysis software with OMERO while managing complex multi-format data. However, cross-cutting efforts are tackling these hurdles.
Speakers mentioned collaborating with other attendees, illustrating the communal spirit advancing progress. While data scale and infrastructure pose challenges, purposeful global collaboration promises solutions to benefit the wider community. Platforms like OMERO and Recommended Metadata for Biological Images (REMBI) standards help unify efforts for maximum impact.Open questions: How can we incentivize robust research data management practices while balancing usability?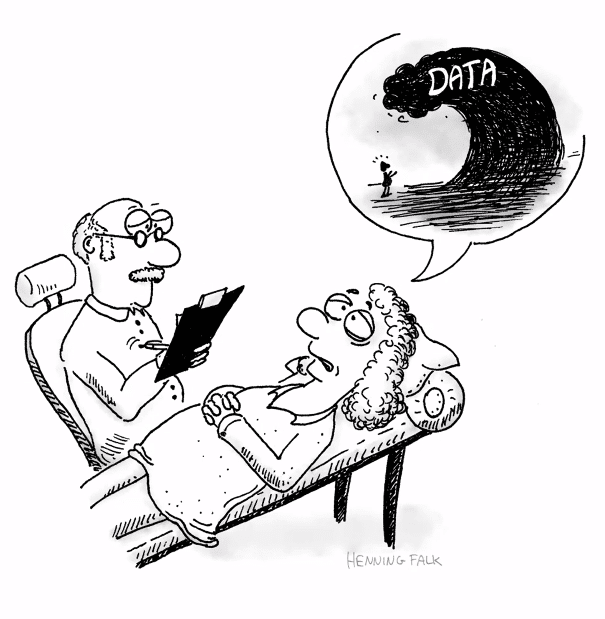 Image used with permission from Henning Falk.
Session 5 – Workflow Management
The symposium now tackled challenges in coordinating image analysis workflows. Joel Lüthi advocated for a modular approach using frameworks like Fractal to process multidimensional OME-Zarr data. Thorsten Wagner described wrapping tools for accessibility while managing large, noisy datasets. Gaëlle Letort shared how to optimize development pipelines to automatically analyze timelapses, reducing 10-hour manual tasks to automated workflows.
A prevalent theme was balancing usability and scalability. Workflows must be accessible to biologists while harnessing HPC and data frameworks like OMERO. Open questions remain regarding infrastructure resources and community standards. However, speakers noted collaborative efforts like NEUBIAS to align recommendations. Wrappers and service architectures. Overall, tailored workflows with shared interfaces can make analysis more intuitive and reproducible across imaging modalities and scales. Community standards are needed to improve interoperability.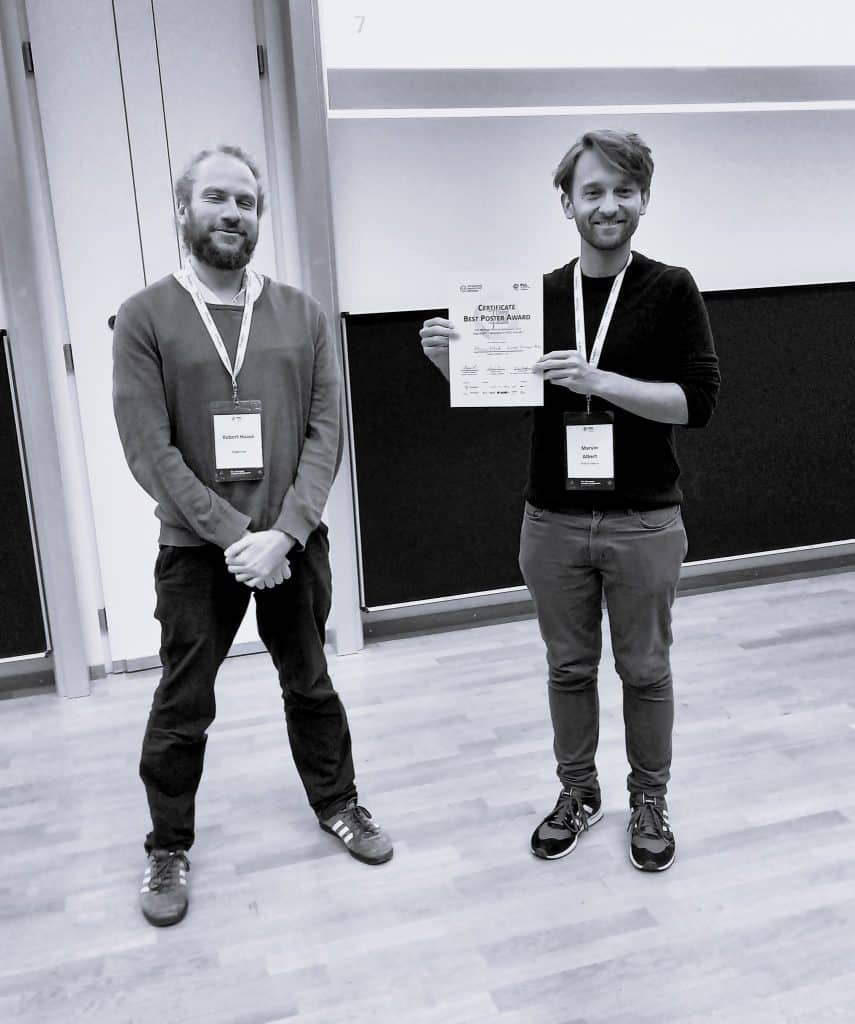 Photo of the "best poster" winner Marvin Albert shared with permission from Stefan Hahmann.
Session 6 – Best Practices in Image Data Acquisition, Handling and Visualization
In the keynote, Helena Jambor motivated the need for conscious visualization choices that render data accurate and accessible. She highlighted community standards to enhance reproducibility and even showcased some cheat sheets. Sebastian Beer, from Hamamatsu, compared and explained camera technologies for representative image capture. Jan Brocher advocated proper formats — no JPEG man — to avoid introducing artifacts during processing and publishing.
Speakers agreed that manipulation detection work is vital for scientific integrity, and like Elisabeth Bik was highlighted several times (if you don't know her, follow her!). There was lots of guidance for image transparency, including the Fiji QuickFigures plugin, working with vector figures, and not using PowerPoint. By promoting best practices and transparency, the community can enhance image truthfulness and communication of robust, insightful science. Let's strive for better and truthful image representation!
Session 7 – Image Analysis I
The session provided a data-centric lens into method innovations enabling discovery across imaging modalities. In the keynote, Nataša Sladoje talked about challenges and advantages of multi-modal registration, she also introduced Comulis for registering diverse datasets, showcasing workflows towards optimization approaches. Lucrezia Ferme showed beautiful microscopy data and analysis approaches to quantify nuclear packing in zebrafish neuroepithelia. Arianne Bercowsky Rama explored data compression in the sponsored talk by Dotphoton, and elegantly switched from biology, to satellites. Chukwuebuka William Okafornta showcased data dimensions transformation used to study nematode spindle scaling during cell division. Cornelia Wetzker and Marcelo Zoccoler presented a plugin using phasor plots to extract signals from lifetime data.
Speakers highlighted the interconnected nature of sample preparation, data properties, and analytical techniques. Key takeaways included the utility of lifetime data for biological insights and the need to balance registration accuracy against speed.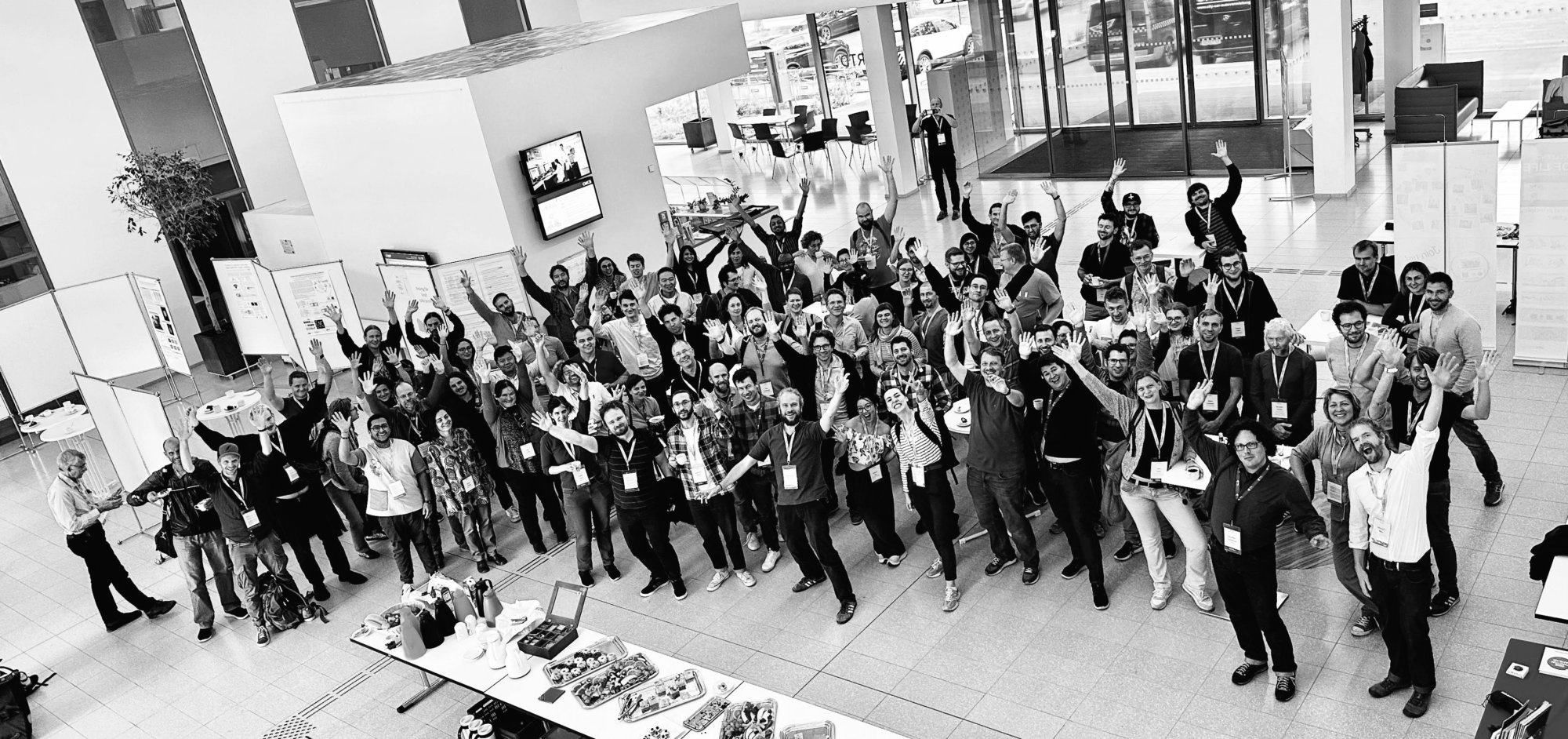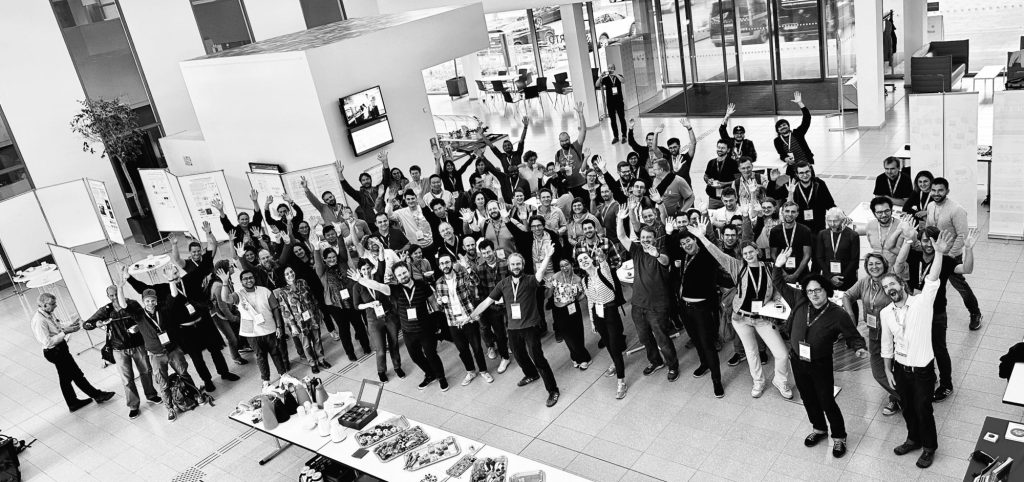 Group photo showing attendees in the entrance hall shared with permission by Kaori Nakashima.
Session 8 – Image Analysis II
The final session explored innovations in image registration and analysis. Joanna Pylvänäinen introduced Fast4DReg for rapid, accessible 4D drift correction using cross-correlation (and had her lab group cheer her on virtually). Joan Rue Queralt discussed Pyxu software for high-throughput reconstruction to combat noise. Ryan Savill presented a biologist's perspective to utilize data science to study in vitro embryo morphogenesis. Johannes Soltwedel shared advances in shape characterization using lightweight meshes to enable multi-dimensional matching. Christopher Schmied concluded with an accessible tool called OrgaMapper for reproducible organelle positioning analysis.
The session combined mathematics, microscopy, and biological applications for a fitting finale. Key themes included balancing usability and computational demands, integrating global and local shape information, and disseminating methods accessibly. Speakers noted collaborative open-source tool development will maximize community impact.
Overall, the symposium highlighted the interdisciplinary spirit driving innovation in bioimage analysis. Thanks to #PoLBIAS23 organizers, sponsors, collaborators and attendees for an unforgettable event! Sharing insights openly, thoughtfully coordinating virtual interactions, and disseminating content widely demonstrated an exemplary commitment to equity.
Images by Martin Jones shared with permission.
JEDI – Justice, Equity, Diversity, and Inclusion
On a personal note, I would like to thank the organizers who provided virtual access to enable remote participation for those unable to attend in person.
Thoughtful coordination ensured online attendees could actively engage via chat and ask questions.
Content was disseminated widely through live social media reporting and open sharing of slides and posters.
There was always at least one person in the conference room who communicated with virtual attendees, as well as spoke for them to relay questions into the room.
Small things, such as reminding in-person attendees to use the microphone, allowed virtual attendees to not be left behind.
These inclusive practices created a welcoming space for the community to exchange ideas. They underscore that implementing equity, while requiring effort, is achievable. As Beth Cimini noted, diverse perspectives drive innovation. By lowering barriers, #PoLBIAS23 fostered impactful scientific discourse.
Screenshot of Acknowledgement slides by Robert Haase, thanking speakers and organizers.
Thanks to the organizers and speakers:
Robert Haase, BiA-PoL, TU Dresden
Silke Tulok & Thomas Müller-Reichert, Faculty of Medicine – CFCI, TU Dresden
Martin Jones & Jon Smith, The Francis Crick Institute, London, UK
Stéphane Rigaud, IAH Institut Pasteur, Paris, France
Adele Doyle, Physics of Life, TU Dresden
Conni Wetzker, CMCB, TU Dresden
Jakob Nikolas Kather, EKFZ, TU Dresden, Germany
Helena Jambor, TU Dresden, Germany
Joel Lüthi, FMI, Basel, Switzerland
Beth Cimini, Broad Institute, MA, USA
Joanna Pylvänäinen, Åbo Akademi University, Turku, Finland
Dave Barry, The Francis Crick Institute, London, UK
Nataša Sladoje, Uppsala University, Sweden
Susanne Kunis, Osnabrück University, Germany
Screenshot of Acknowledgement slides by Robert Haase, thanking the trainers of the training school that preceded the symposium.
Big shoutout to the trainers who supported the training school that preceded the symposium: Martin Schaetz, Jan Brocher, Neringa Jurenaite, Apurv Deepak Kulkarni, Marvin Albert, Marci Musy, Brian Northan, Sebastian Starke, Peter Steinbach, Marcelo Zoccoler, Till Korten, Allyson Ryan, and Johannes Soltwedel.
Screenshot of Acknowledgement slides by Robert Haase, thanking the fairies and wizards who contributed to the event.
Thanks to the amazing team that made things run smoothly: Joerg Freund, Andy Vogelsang, Hagen Gebauer, Kaori Nakashima, Angela Jakobi, Konstantin Troianovskii, Svetlana Iarovenko, Maleeha Hassan, Stefan Hahnemann, Noam Dori, Andrea Heinze, Chukwuebuka William Okafornta, Michael Gerlach, and Somashekhar Kulkarni.
Screenshot of Acknowledgement slides by Robert Haase, thanking the fairies and wizards who contributed to the event.
Thanks to the fairies and wizards in the background, including Jochen Reichel and Sandro Struck from Respect Live and Elisabeth Kugler from Zeeks – Art for Geeks.
Special thanks goes to the behind the scenes team, Philipp Naumann, Ilona Kreher, and Conni Wetzker.
Authors: Dr Elisabeth Kugler (Twitter | Zeeks – Art for Geeks Ltd).
Acknowledgement: We thank Dr Robert Haase (Twitter | PoL TU Dresden) for making the event possible, bringing Zeeks on-board, and providing feedback for this article.Written in the context of the Physics of Life PoL TU Dresden Bio-Image Analysis Symposium 2023.
IMPORTANT RESOURCES
Screenshot of Acknowledgement slides by Robert Haase, thanking the funders.
Big thanks to the funders, without whom the event would not have been possible – thanks to the Chan Zuckerberg Initiative and the Deutsche Forschungsgemeinschaft.
Screenshot of Acknowledgement slides by Robert Haase, thanking the partners.
Big thanks to the partners of #PoLBIAS23: Physics of Life TU Dresden, Institut Pasteur, The Francis Crick Institute, Biopolis Dresden Imaging Platform, Center for Regenerative Therapies TU Dresden, ScaDS.AI, Helmholtz Zentrum Dresden Rossendorf, ZiH – Center for Information Services and High Performance Computing, TU Dresden, Dresden Concept, CFCI Light Microscopy, and NFDI4Bioimage.
Screenshot of Acknowledgement slides by Robert Haase, thanking the sponsors.
Big thanks to the sponsors, including Dotphoton, Dewpoint, Viventis, Hamamatsu, and Dresden.
LINKS
Linkedin Summaries: Day 1 || Day 2 || Day 3
Twitter Threads